Release Apache SkyWalking APM 9.6.0
Release Apache SkyWalking 9.6.0
SkyWalking 9.6.0 is released. Go to downloads page to find release tars.
New Alerting Kernel
MQE(Metrics Query Expression) and a new notification mechanism are supported.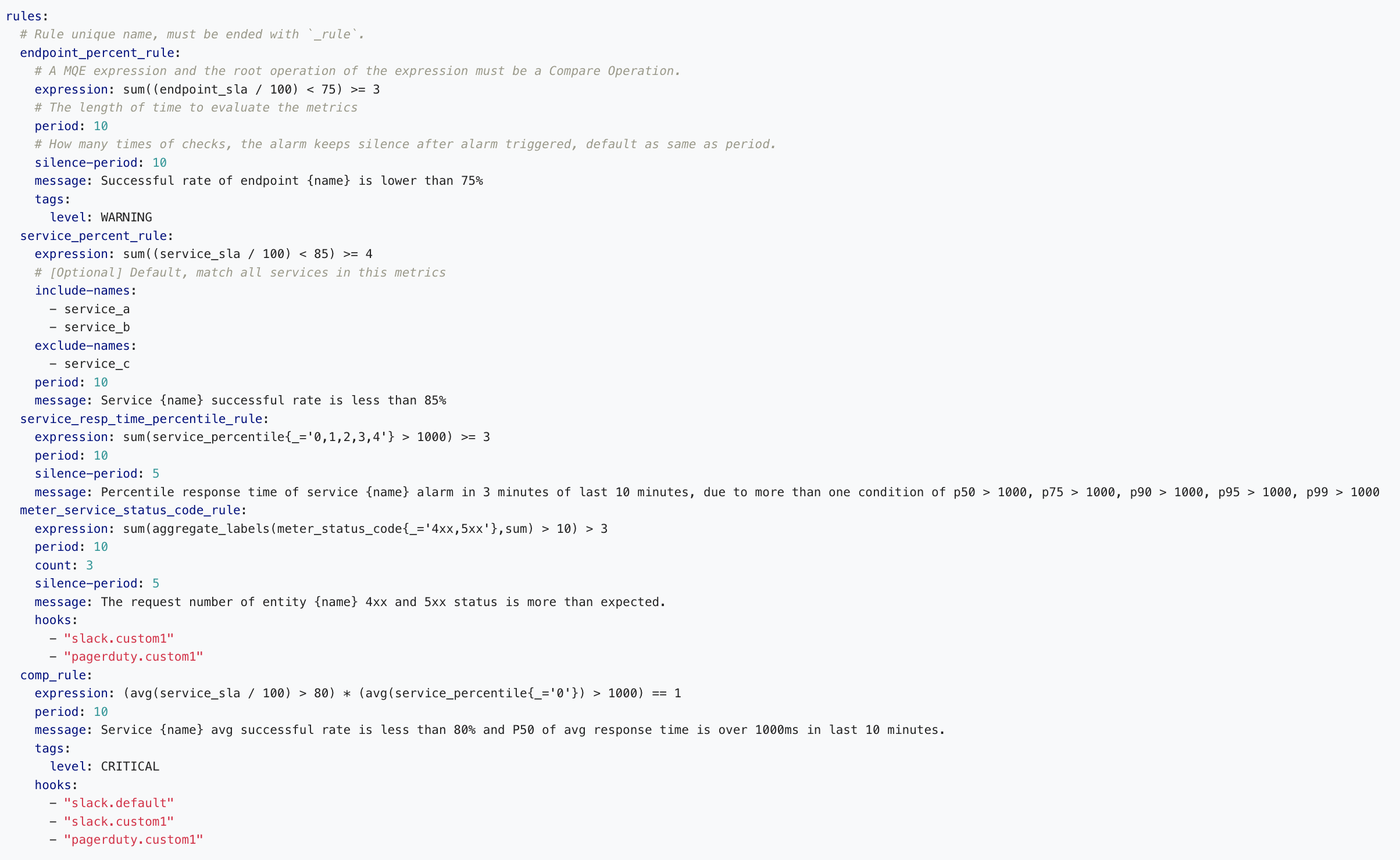 Support Loki LogQL
Newly added support for Loki LogQL and Grafana Loki Dashboard for SkyWalking collected logs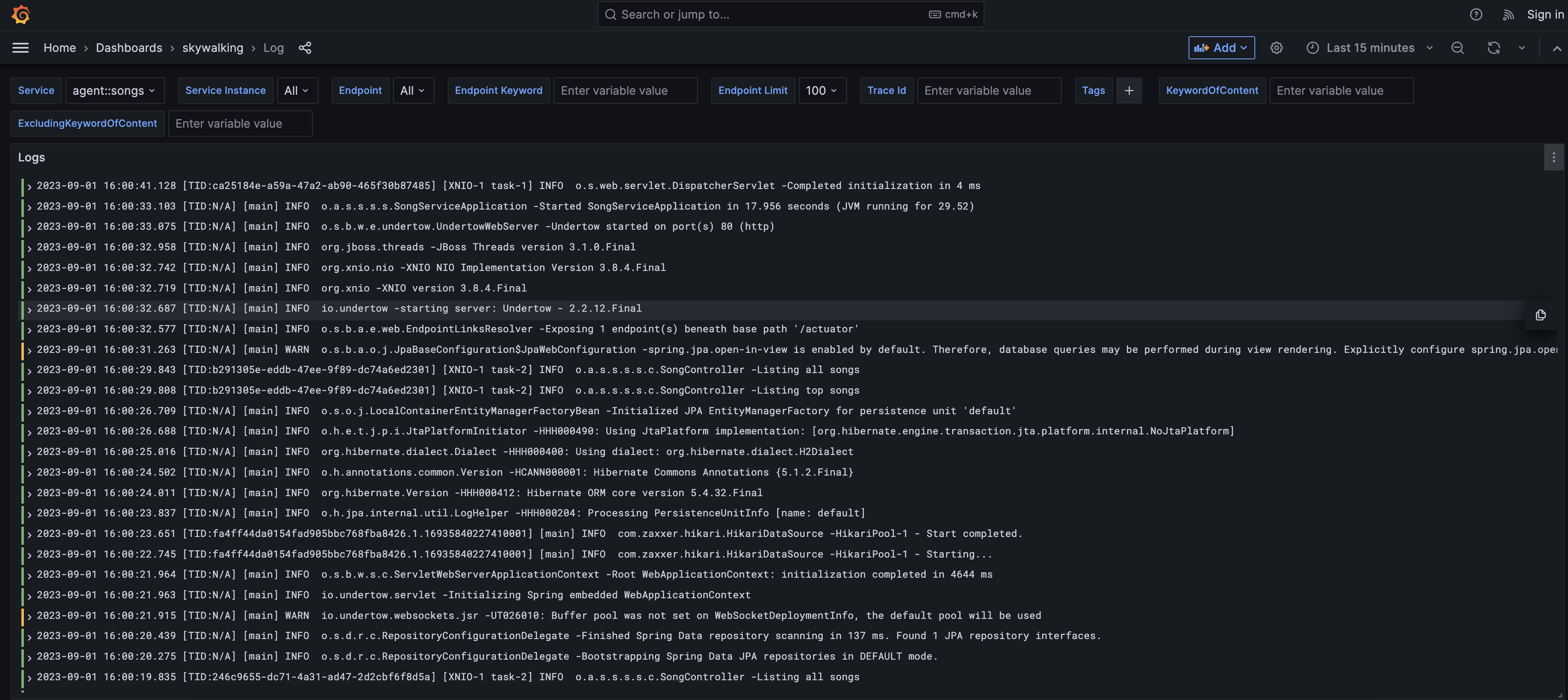 WARNING
ElasticSearch 6 storage relative tests are removed. It worked and is not promised due to end of life officially.
Project
Bump up Guava to 32.0.1 to avoid the lib listed as vulnerable due to CVE-2020-8908. This API is never used.
Maven artifact skywalking-log-recevier-plugin is renamed to skywalking-log-receiver-plugin.
Bump up cli version 0.11 to 0.12.
Bump up the version of ASF parent pom to v30.
Make builds reproducible for automatic releases CI.
OAP Server
Add Neo4j component ID(112) language: Python.
Add Istio ServiceEntry registry to resolve unknown IPs in ALS.
Wrap deleteProperty API to the BanyanDBStorageClient.
[Breaking change] Remove matchedCounter from HttpUriRecognitionService#feedRawData.
Remove patterns from HttpUriRecognitionService#feedRawData and add max 10 candidates of raw URIs for each pattern.
Add component ID for WebSphere.
Fix AI Pipeline uri caching NullPointer and IllegalArgument Exceptions.
Fix NPE in metrics query when the metric is not exist.
Remove E2E tests for Istio < 1.15, ElasticSearch < 7.16.3, they might still work but are not supported as planed.
Scroll all results in ElasticSearch storage and refactor scrolling logics, including Service, Instance, Endpoint, Process, etc.
Improve Kubernetes coordinator to remove Terminating OAP Pods in cluster.
Support SW_CORE_SYNC_PERIOD_HTTP_URI_RECOGNITION_PATTERN and SW_CORE_TRAINING_PERIOD_HTTP_URI_RECOGNITION_PATTERN to control the period of training and sync HTTP URI recognition patterns. And shorten the default period to 10s for sync and 60s for training.
Fix ElasticSearch scroller bug.
Add component ID for Aerospike(ID=149).
Packages with name recevier are renamed to receiver.
BanyanDBMetricsDAO handles storeIDTag in multiGet for BanyanDBModelExtension.
Fix endpoint grouping-related logic and enhance the performance of PatternTree retrieval.
Fix metric session cache saving after batch insert when using mysql-connector-java.
Support dynamic UI menu query.
Add comment for docker/.env to explain the usage.
Fix wrong environment variable name SW_OTEL_RECEIVER_ENABLED_OTEL_RULES to right SW_OTEL_RECEIVER_ENABLED_OTEL_METRICS_RULES.
Fix instance query in JDBC implementation.
Set the SW_QUERY_MAX_QUERY_COMPLEXITY default value to 3000(was 1000).
Accept length=4000 parameter value of the event. It was 2000.
Tolerate parameter value in illegal JSON format.
Update BanyanDB Java Client to 0.4.0
Support aggregate Labeled Value Metrics in MQE.
[Breaking change] Change the default label name in MQE from label to _.
Bump up grpc version to 1.53.0.
[Breaking change] Removed '&' symbols from shell scripts to avoid OAP server process running as a background process.
Revert part of #10616 to fix the unexpected changes: if there is no data we should return an array with 0s, but in #10616, an empty array is returned.
Cache all service entity in memory for query.
Bump up jackson version to 2.15.2.
Increase the default memory size to avoid OOM.
Bump up graphql-java to 21.0.
Add Echo component ID(5015) language: Golang.
Fix index out of bounds exception in aggregate_labels MQE function.
Support MongoDB Server/Cluster monitoring powered by OTEL.
Do not print configurations values in logs to avoid sensitive info leaked.
Move created the latest index before retrieval indexes by aliases to avoid the 404 exception. This just prevents some interference from manual operations.
Add more Go VM metrics, as new skywalking-go agent provided since its 0.2 release.
Add component ID for Lock (ID=5016).
[Breaking change] Adjust the structure of hooks in the alarm-settings.yml. Support multiple configs for each hook types and specifying the hooks in the alarm rule.
Bump up Armeria to 1.24.3.
Fix BooleanMatch and BooleanNotEqualMatch doing Boolean comparison.
Support LogQL HTTP query APIs.
Add Mux Server component ID(5017) language: Golang.
Remove ElasticSearch 6.3.2 from our client lib tests.
Bump up ElasticSearch server 8.8.1 to 8.9.0 for latest e2e testing. 8.1.0, 7.16.3 and 7.17.10 are still tested.
Add OpenSearch 2.8.0 to our client lib tests.
Use listening mode for apollo implementation of dynamic configuration.
Add view_as_seq function in MQE for listing metrics in the given prioritized sequence.
Fix the wrong default value of k8sServiceNameRule if it's not explicitly set.
Improve PromQL to allow for multiple metric operations within a single query.
Fix MQE Binary Operation between labeled metrics and other type of value result.
Add component ID for Nacos (ID=150).
Support Compare Operation in MQE.
Fix the Kubernetes resource cache not refreshed.
Fix wrong classpath that might cause OOM in startup.
Enhance the serviceRelation in MAL by adding settings for the delimiter and component fields.
[Breaking change] Support MQE in the Alerting. The Alarm Rules configuration(alarm-settings.yml), add expression field and remove metrics-name/count/threshold/op/only-as-condition fields and remove composite-rules configuration.
Check results in ALS as per downstream/upstream instead of per log.
Fix GraphQL query listInstances not using endTime query
Do not start server and Kafka consumer in init mode.
Add Iris component ID(5018).
Add OTLP Tracing support as a Zipkin trace input.
UI
Fix metric name browser_app_error_rate in Browser-Root dashboard.
Fix display name of endpoint_cpm for endpoint list in General-Service dashboard.
Implement customize menus and marketplace page.
Fix minTraceDuration and maxTraceDuration types.
Fix init minTime to Infinity.
Bump dependencies to fix vulnerabilities.
Add scss variables.
Fix the title of instance list and notices in the continue profiling.
Add a link to explain the expression metric, add units in the continue profiling widget.
Calculate string width to set Tabs name width.
[Breaking change] Removed '&' symbols from shell scripts to avoid web application server process running as a background process.
Reset chart label.
Fix service associates instances.
Remove node-sass.
Fix commit error on Windows.
Apply MQE on MYSQL, POSTGRESQL, REDIS, ELASTICSEARCH and DYNAMODB layer UI-templates.
Apply MQE on Virtual-Cache layer UI-templates
Apply MQE on APISIX, AWS_EKS, AWS_GATEWAY and AWS_S3 layer UI templates.
Apply MQE on RabbitMQ Dashboards.
Apply MQE on Virtual-MQ layer UI-templates
Apply MQE on Infra-Linux layer UI-templates
Apply MQE on Infra-Windows layer UI-templates
Apply MQE on Browser layer UI-templates.
Implement MQE on topology widget.
Fix getEndpoints keyword blank.
Implement a breadcrumb component as navigation.
Documentation
Add Go agent into the server agent documentation.
Add data unit description in the configuration of continuous profiling policy.
Remove storage extension doc, as it is expired.
Remove how to add menu doc, as SkyWalking supports marketplace and new backend-based setup.
Separate contribution docs to a new menu structure.
Add a doc to explain how to manage i18n.
Add a doc to explain OTLP Trace support.
Fix typo in dynamic-config-configmap.md.
Fix out-dated docs about Kafka fetcher.
Remove 3rd part fetchers from the docs, as they are not maintained anymore.
All issues and pull requests are here