Design
The mmap-queue is a big, fast, and persistent queue based on the memory-mapped files. One mmap-queue has a directory to store the whole data. The queue directory is made up of many segments and 1 metafile. This is originally implemented by bigqueue project, we changed it a little for fitting the Satellite project requirements.
Segment: Segment is the real data store center, that provides large-space storage and does not reduce read and write performance as much as possible by using mmap. And we will avoid deleting files by reusing them.
Meta: The purpose of meta is to find the data that the consumer needs.
Meta
Metadata only needs 80B to store the Metadata for the pipe. But for memory alignment, it takes at least one memory page size, which is generally 4K.
[    8Bit   ][  8Bit ][  8Bit ][  8Bit ][  8Bit ][  8Bit ][  8Bit ][  8Bit ][  8Bit ][  8Bit  ]
[metaVersion][  ID   ][ offset][  ID   ][ offset][  ID   ][ offset][  ID   ][ offset][capacity]
[metaVersion][writing   offset][watermark offset][committed offset][reading   offset][capacity]


Transforming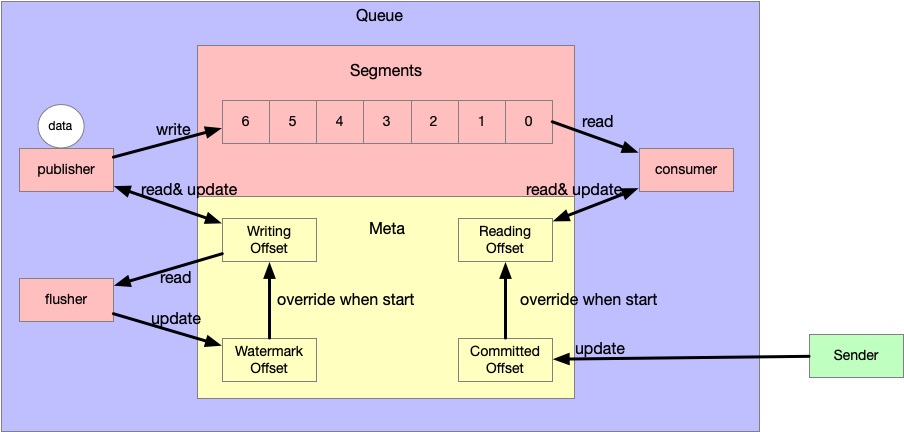 BenchmarkTest
Test machine: macbook pro 2018
Model Name:	MacBook Pro
Model Identifier:	MacBookPro15,1
Processor Name:	6-Core Intel Core i7
Processor Speed:	2.2 GHz
Number of Processors:	1
Total Number of Cores:	6
L2 Cache (per Core):	256 KB
L3 Cache:	9 MB
Hyper-Threading Technology:	Enabled
Memory:	16 GB
System Firmware Version:	1554.60.15.0.0 (iBridge: 18.16.13030.0.0,0

push operation
goos: darwin
goarch: amd64
pkg: github.com/apache/skywalking-satellite/plugins/queue/mmap
BenchmarkEnqueue
BenchmarkEnqueue/segmentSize:_128KB_maxInMemSegments:18_message:8KB_queueCapacity:10000         	   27585	     43559 ns/op	    9889 B/op	       9 allocs/op
BenchmarkEnqueue/segmentSize:_256KB_maxInMemSegments:10_message:8KB_queueCapacity:10000         	   39326	     31773 ns/op	    9840 B/op	       9 allocs/op
BenchmarkEnqueue/segmentSize:_512KB_maxInMemSegments:6_message:8KB_queueCapacity:10000          	   56770	     22990 ns/op	    9816 B/op	       9 allocs/op
BenchmarkEnqueue/segmentSize:_256KB_maxInMemSegments:20_message:8KB_queueCapacity:10000         	   43803	     29778 ns/op	    9840 B/op	       9 allocs/op
BenchmarkEnqueue/segmentSize:_128KB_maxInMemSegments:10_message:16KB_queueCapacity:10000        	   16870	     80576 ns/op	   18944 B/op	      10 allocs/op
BenchmarkEnqueue/segmentSize:_128KB_maxInMemSegments:10_message:8KB_queueCapacity:100000        	   36922	     39085 ns/op	    9889 B/op	       9 allocs/op
PASS

push and pop operation
goos: darwin
goarch: amd64
pkg: github.com/apache/skywalking-satellite/plugins/queue/mmap
BenchmarkEnqueueAndDequeue
BenchmarkEnqueueAndDequeue/segmentSize:_128KB_maxInMemSegments:18_message:8KB_queueCapacity:10000         	   21030	     60728 ns/op	   28774 B/op	      42 allocs/op
BenchmarkEnqueueAndDequeue/segmentSize:_256KB_maxInMemSegments:10_message:8KB_queueCapacity:10000         	   30327	     41274 ns/op	   28726 B/op	      42 allocs/op
BenchmarkEnqueueAndDequeue/segmentSize:_512KB_maxInMemSegments:6_message:8KB_queueCapacity:10000          	   32738	     37923 ns/op	   28700 B/op	      42 allocs/op
BenchmarkEnqueueAndDequeue/segmentSize:_256KB_maxInMemSegments:20_message:8KB_queueCapacity:10000         	   28209	     41169 ns/op	   28726 B/op	      42 allocs/op
BenchmarkEnqueueAndDequeue/segmentSize:_128KB_maxInMemSegments:10_message:16KB_queueCapacity:10000        	   14677	     89637 ns/op	   54981 B/op	      43 allocs/op
BenchmarkEnqueueAndDequeue/segmentSize:_128KB_maxInMemSegments:10_message:8KB_queueCapacity:100000        	   22228	     54963 ns/op	   28774 B/op	      42 allocs/op
PASS